Kavango-Zambezi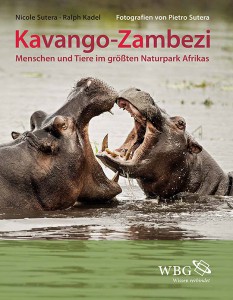 The Kavango-Zambezi book includes the people, wildlife and scenery of the (KAZA) Transfrontier Conservation Area and lots of information from the authors.
KAZA TFCA is situated in southern Africa in the Okavango and Zambezi river basins, where the borders of Angola, Botswana, Namibia, Zambia and Zimbabwe converge. It is the world's largest transfrontier conservation area, spanning approximately 520 000 km2 (larger than the added sizes of Germany, Austria and Switzerland).
It includes national parks, game reserves, community conservancies and game management areas. Most notably, the area includes the Zambezi Region, Chobe National Park, the Okavango Delta (the largest Ramsar Site in the World) and the Victoria Falls (a World Heritage Site and one of the Seven Natural Wonders of the World).
ISBN: 978-3534255191
Zum Hochzeitstag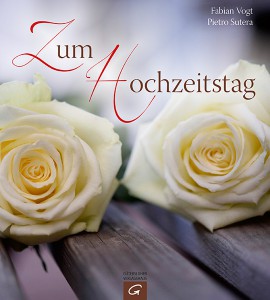 Poetisches und Heiteres zum kompliziertesten aller Themen – der Liebe
Die Hochzeit und der Hochzeitstag – für die meisten ein emotionales Fest, vor allem dann, wenn er sich wieder mal als Jubiläum rundet. Dieser Band mit stimmungsvollen Fotos und Texten lädt dazu ein, sich von den Dimensionen der Liebe immer wieder neu begeistern zu lassen. Und weil eines der großen Geheimnisse guter Beziehungen das gemeinsame Lachen ist, legen die Autoren besonderen Wert auf die heiteren Facetten des Ehelebens. Die Liebeswerkstatt hält die 10 wichtigsten Ehe-Tipps bereit, klärt über die 10 größten Ehe-Fallen auf und bietet einen kleinen Ehe-Test.
ISBN: 978-3-579-07029-2
Die Kinder des Tsunami

A book about the children from Nagapattinam /India that experienced and survived the Tsunami of 2004. Many of them have received help from the SPSC (Strahlemann-Peace Support Center) which was built soon after the Tsunami hit the region in coordination with Peace Trust India and Karl Kübel Foundation Germany. The German NGO Strahlemann has supported the center for over 10 years and still does.
ISBN: 978-3867707701
M.I.L.K.
Friendship, Family, Love and Laughter

Inspired by the 1950s landmark photographic exhibition, 'The Family of Man', M.I.L.K. began as an epic global search to find unique and geographically diverse images on the themes of friendship, family and love. It was not only the richest in photographic history, but also one of the most significant, drawing participation from 17,000 professional and amateur photographers in 164 countries. In total over 40,000 images were received by M.I.L.K., including at least four Pulitzer Prize-winners. The 150 winning images were chosen by the Chief Judge Magnum photographer Elliott Erwitt, and were the basis for three books entitled "Friendship", "Family", "Love & Laughter" in November 2009, and on selected licensed products.
Three photographs taken by Pietro Sutera are amongst the chosen winning images.
ISBN: 978-3868731286
New York – Postcard Booklet
sold out – no reprint